… where the Alps
meet the Rockies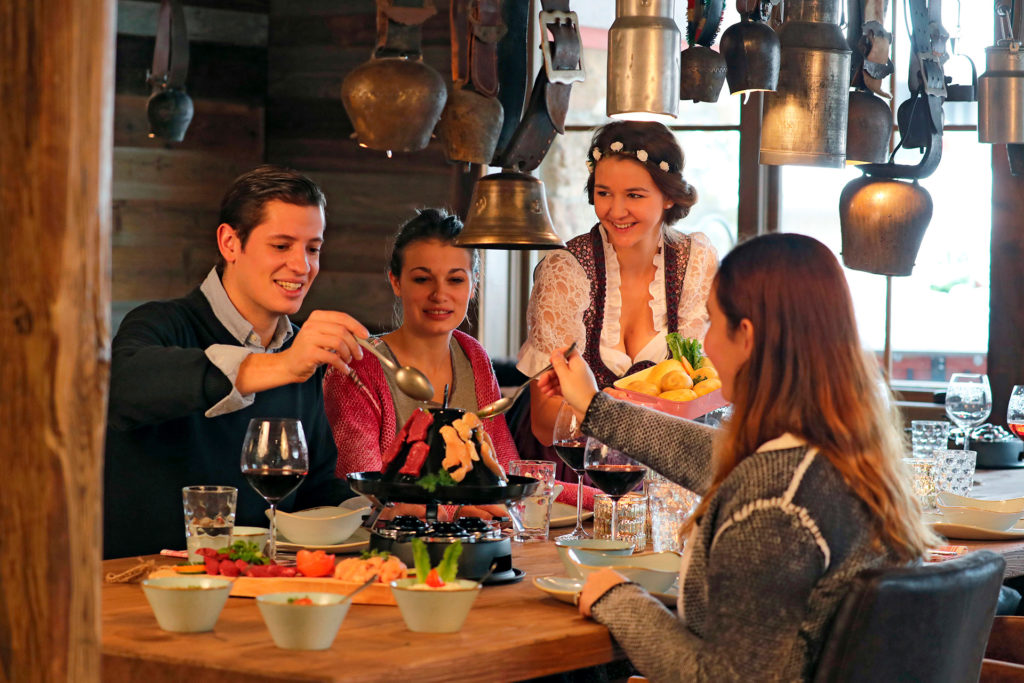 Our cuisine is characterised by the specialities of the Alps. From our starters like the Swiss cheese fondue traditionally prepared with cherry brandy to our Almresi Seppi Flammkuchen – a classic tarte flambee served with bacon, onions and sour cream. One of our favorite entrees is the pork shank with mashed potatoes and our very tasty German sauerkraut. Great for bigger groups, families and/or couples we serve our Austrian Hutessen "Eat your hat" which starts with a family style mixed salad. Place your meat on the hot iron hat, let it sizzle until it's done and your simple authentic Austrian meal is ready to eat! We also offer a variety of sauces as well as baked potatoes. As a sweet finish we recommand our classic Austrian Kaiserschmarrn (Americans describe it as pancake and French Toast dessert baby) or our authentic German apple strudel with vanilla sauce. To round up our alpine experience we only serve excellent and high quality wines from the regions around the Alps like Italy, Austria, Switzerland and Germany.
Our Family Story
My husband and I met with a common dream: America. He moved to Vail, Colorado in the 80s to live and work in the US, and so he fell in love with the American lifestyle. After we got married, we started our business in Germany and we began spending many vacations with our four kids throughout the US. Even though our lives were in Germany, we never lost sight of our hearts' desire to bring America into them as well. About five years ago, we were vacationing again in the beautiful Rockies and I really don't know how it happened, but everything fell together like a mosaic and we found ourselves with a unique opportunity: running a restaurant. We knew that this was our chance to expand into the US, not only our business, but also our lives, and we seized the opportunity. In doing so, we began to realize a common family dream.
One year of planning, organizing, rebuilding, and many oversea flights later with highs and lows that building up a new project in a foreign country has to offer, we were happy to open our first Almresi just in time for Christmas 2016. As soon as we had opened and after all this hard work it was very clear to us that this should be our only project in the US, but the Timber Resort Group approached us and wanted our Almresi concept for their Dancing Bear in Aspen. As barely as we got back our balance, we had a new project ahead of us.  And we couldn't say "No", since we love Aspen and never expected such a chance to open a second Almresi in this perfect and fantastic place. At the same time, the next project in Vail was offered to us: "Alpenrose" in the heart of Vail Village and so this restaurant were redesigned and reopened for Christmas 2018, all, in between buildout plans and permits for Aspen.
In our wildest dreams we would not have expected this development when we started with only one restaurant in the US. Now finally we are very happy to have the chance to be part of the Timber Resort Group and to start with our Almresi concept in Aspen for Christmas 2019 at the Dancing Bear. German and Austrian carpenters have helped us with great talent and skills to realize the typical Almresi charm. Hundreds of years old wood from old barns and huts imported from the mountains of Austria ans Switzerland have taken the long way to the USA in a container to shine now in Aspen in new brightness and a true feel-good atmosphere. Authentic flair, attention to detail and the smell of old wood combines to a beautiful homey atmosphere. Feel welcomed in our new Almresi in Aspen and find the love we put into every handselected detail. We are more than honored to welcome you as our guests.